Pengaruh Komitmen Profesional Dan Locus of Control Terhadap Intensitas Melakukan Whistleblowing Dengan Sensitivitas Etis Sebagai Variabel Intervening
Yusriadi Hala

STIEM Bongaya
Keywords:
Komitmen Profesional, Locus Of Control, Whistleblowing, Sensitivitas Etis
Abstract
Tujuan dari penelitian ini adalah untuk mengetahui Pengaruh Komitmen Profesional Dan Locus of Control Terhadap Intensitas Melakukan Whistleblowing Dengan Sensitivitas Etis Sebagai Variabel Intervening. Pada penelitian ini pengambilan sampel menggunakan teknik sampling sensus yang dimana peneliti mengambil seluruh sampel yang berada dalam populasi yaitu 31 auditor yang bekerja di KAP wilayah Makassar. Dari 6 KAP yang aktif di Makassar, hanya ada 4 KAP yang bersedia menjadi responden dan mengisi kuesioner. Metode pengumpulan data yang digunakan dalam penelitian ini adalah penyebaran kuesioner. Metode analisis yang digunakan adalah statistik deskriptif dengan pendekatan regresi. Hasil penelitian menyatakan bahwa sebanyak lima hipotesis berpengaruh positif dan signifikan, baik melalui hubungan secara langsung intervening maupun tidak langsung.
References
Ajzen, I. (1991). The theory of planned behavior. Organizational behavior and human decision processes, 50(2), 179-211.
Aranya, N., Pollock, J., & Amernic, J. (1981). An examination of professional commitment in public accounting. Accounting, Organizations and Society, 6(4), 271-280.
Armstrong, B. C. (2002). School size as a factor in the job satisfaction and locus of control of high school principals in Missouri.
Elviana, E., & Dewi, N. P. (2019). ANALISIS PENDAPATAN IKLAN SEBELUM DAN SESUDAH KENAIKAN HARGA PADA PT. RAMAKO BATAM. Zona Akuntansi, 6(3).
Hariani, P. L., Faizal, M., & Setiabudidaya, D. (2013). Synthesis and properties of Fe3O4 nanoparticles by co-precipitation method to removal procion dye. International Journal of Environmental Science and Development, 4(3), 336.
Joneta, C., Anugerah, R., & Susilatri, S. (2016). Pengaruh Komitmen Profesional dan Pertimbangan Etis Terhadap Intensi Melakukan Whistleblowing: Locus of Control Sebagai Variabel Moderasi (Doctoral dissertation, Riau University).
Kaplan, S. (1995). The restorative benefits of nature: Toward an integrative framework. Journal of environmental psychology, 15(3), 169-182.
Kreshastuti, D. K., & Prastiwi, A. (2014). Analisis faktor-faktor yang mempengaruhi intensi auditor untuk melakukan tindakan whistleblowing (studi empiris pada kantor akuntan publik di semarang) (Doctoral dissertation, Fakultas Ekonomika dan Bisnis).
Kurnia, W., Khomsiyah, K., & Sofie, S. (2014). Pengaruh Kompetensi, Independensi, Tekanan Waktu, dan Etika Auditor terhadap Kualitas Audit. Jurnal Akuntansi Trisakti, 1(2), 49-67.
Kusuma, A. H. P., Rina, R., & Syam, A. H. (2018). The Main Role of Locus of Control and Professional Ethics on Lecturer's Performance (Indonesian Lecturer Empirical Study). International Review of Management and Marketing, 8(5), 9.
Law, D. W., Sweeney, J. T., & Summers, S. L. (2008). An examination of the influence of contextual and individual variables on public accountants' exhaustion. Advances in accounting behavioral research, 11(4), 129-153.
Lokapirnasari, W. P., Nazar, D. S., Nurhajati, T., Supranianondo, K., & Yulianto, A. B. (2015). Production and assay of cellulolytic enzyme activity of Enterobacter cloacae WPL 214 isolated from bovine rumen fluid waste of Surabaya abbatoir, Indonesia. Veterinary world, 8(3), 367.
Lord, A. T., & DeZoort, F. T. (2001). The impact of commitment and moral reasoning on auditors' responses to social influence pressure. Accounting, Organizations and Society, 26(3), 215-235.
Mesmer-Magnus, J. R., & Viswesvaran, C. (2005). Convergence between measures of work-to-family and family-to-work conflict: A meta-analytic examination. Journal of vocational behavior, 67(2), 215-232.
Near, J. P., & Miceli, M. P. (1985). Organizational dissidence: The case of whistle-blowing. Journal of business ethics, 4(1), 1-16.
Nugraha, T. A. C. (2016). Pengaruh Independensi, Gaya Kepemimpinan, Komitmen Organisasi, Pemahaman Good Governance Dan Profesionalisme Terhadap Kinerja Auditor Pemerintah (Studi Pada Auditor Pemerintah di BPKP Jawa Tengah Tahun 2016) (Doctoral dissertation, Fakultas Ekonomi UNISSULA).
Otley, D. T., & Pierce, B. J. (1996). Auditor time budget pressure: consequences and antecedents. Accounting, Auditing & Accountability Journal.
Payne, J. W., Sagara, N., Shu, S. B., Appelt, K. C., & Johnson, E. J. (2013). Life expectancy as a constructed belief: Evidence of a live-to or die-by framing effect. Journal of Risk and Uncertainty, 46(1), 27-50.
Purnamasari, D., Purnamasri, P., & Gunawan, H. (2016). Pengaruh sensitivitas etis, professional identity, dan locus of control terhadap whistleblowing intention. Proceedings Akuntansi, 2(2), 955-963.
Rothschild, J., & Miethe, T. D. (1999). Whistle-blower disclosures and management retaliation: The battle to control information about organization corruption. Work and occupations, 26(1), 107-128.
Rotter, J. B. (1966). Generalized expectancies for internal versus external control of reinforcement. Psychological monographs: General and applied, 80(1), 1.
Setiawati, E., & Baningrum, R. M. (2018). Deteksi Fraudulent Financial Reporting Menggunakan Analisis Fraud Pentagon: Studi Kasus pada Perusahaan Manufaktur yang Listed di BEI Tahun 2014-2016. Riset Akuntansi Dan Keuangan Indonesia, 3(2), 91-106.
Shaub, M. K. (1989). An empirical examination of the determinants of auditors' ethical sensitivity (Doctoral dissertation, Texas Tech University).
Spector, P. E. (1983). Locus of control and social influence susceptibility: are externals normative or informational conformers?. The Journal of psychology, 115(2), 199-201.
Suhayati, E. (2013). Sikap Negatif dari Akuntan Publik Akan Menimbulkan Disfungsional Akuntan Publik. Majalah Ilmiah UNIKOM.
Susmanschi, G. (2012). Internal audit and whistle-blowing. Economics, Management, and Financial Markets, 7(4), 415-421.
Tuanakotta, T. M. (2012). Forensic Accounting and Investigative Audit. Jakarta's Salemba Empat.
Yulianto, R. D. A. (2015). Pengaruh Orientasi Etika, Komitmen Profesional, dan Sensitivitas Etis Terhadap Whistleblowing. Skripsi. Uni versitas Negeri Yogyakarta.
Meiyani, E., & Putra, A. H. P. K. (2019). The Relationship Between Islamic Leadership on Employee Engagement Distribution in FMCG Industry: Anthropology Business Review. 유통과학연구, 17(5), 19-28.
Aditya, H. P. (2012). Analisis Pengaruh Harga, Data Demografi, Promosi terhadap Kecenderungan Pembelian Impulsif Dan Pengaruhnya Terhadap Budaya Konsumerisme Relatif Pada Konsumen KFC Kota Makassar (Doctoral dissertation, Tesis).
Ridha, A., Perdana, A. H., & As' ad, A. (2018). Celebrity Endorser Pada Jejaring Sosialinstagram Untuk Menarik Minat Pembelian Calon Konsumen. JURNAL ECONOMIC RESOURCE, 1(1), 86-96.
HAERANI, S., HAKIM, W., & PUTRA, A. H. P. K. (2020). Structural Model of Developing Human Resources Performance: Empirical Study of Indonesia States Owned Enterprises. The Journal of Asian Finance, Economics and Business (JAFEB), 7(3), 211-221.
LESTARI, S. D., MUHDALIHA, E., & PUTRA, A. H. P. K. (2020). E-Commerce Performance Based on Knowledge Management and Organizational Innovativeness. 유통과학연구, 18, 49-58.
AKOB, M., ARIANTY, R., & PUTRA, A. H. P. K. The Mediating Role of Distribution Kahn's Engagement: An Empirical Evidence of Salesforce in Indonesia.
Susanti, S., Van Harling, V. N., Kurniawan, M. A., & Putra, A. H. P. K. (2019, December). Model of Higher Education Quality Improvement in Indonesia: Relationship between HRM and Information Technology Literacy. In Journal of Physics: Conference Series (Vol. 1424, No. 1, p. 012035). IOP Publishing.
Putra, A. H. P. K., Said, S., & Hasan, S. (2017). Pengaruh Karakteristik Toko dan Produk bagi Konsumen di Indonesia terhadap Pembelian Impulsif. Jurnal Manajemen dan Kewirausahaan, 5(2).
Putra, A. H., Aswari, A., Arifin, M. Y. R., & Rina, R. (2018). Quantitative series: Factors analysis effects of government regulation number 46 the year 2013 for SME's by justice, convenience, and simplicity of tax aspects. Substantive Justice International Journal of Law, 1(2), 65-81.
Arifin, M. Y. R. (2019). PEREKONOMIAN NASIONAL DALAM PERSPEKTIF UNDANG-UNDANG DASAR 1945 NEGARA REPUBLIK INDONESIA. CELEBES EQUILIBRUM JOURNAL, 1(1), 26-31.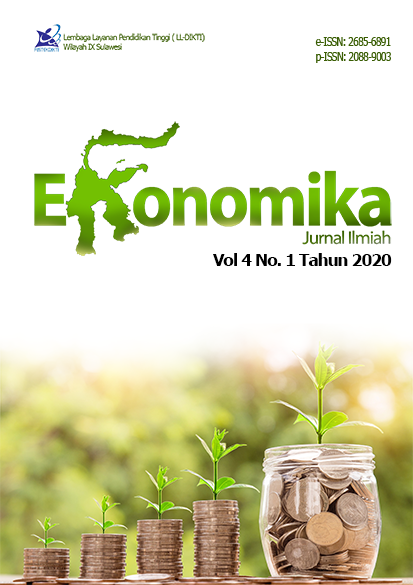 Copyright (c) 2020 Jurnal Ekonomika
This work is licensed under a Creative Commons Attribution-ShareAlike 4.0 International License.
JOURNAL POLICIES / PLAGIARISM AND COPYRIGHT INFRINGEMENT
Authors are responsible for ensuring that their works are unique and that they fully acknowledge the source of any content which is not entirely the authors' own. The journal will check articles for plagiarism (i.e. reproducing any content without attribution and permission) using Crosscheck / Similarity Check and considers the inclusion of plagiarised content to be misconduct by the authors.