Intervensi Variabel Investasi, Pengeluaran Pemerintah, Tingkat Pengangguran, Dan Pertumbuhan Ekonomi Terhadap Ketimpangan Pendapatan di Indonesia
Nurhidayati Islamiah

Universitas Hasanuddin, Makassar

R Rahmatia

Universitas Hasanuddin, Makassar

Hamid Paddu

Universitas Hasanuddin, Makassar

Muhammad Yusri

Universitas Hasanuddin, Makassar
Keywords:
Investasi Pemerintah, Pengeluaran Pemerintah, Pertumbuhan Ekonomi, Tingkat Pengangguran, Ketimpangan Pendapatan
Abstract
Studi ini melihat adanya celah kritis dari beberapa penelitian terdahulu bahwa pengungkapan korelasi rasio pengangguran hanya diukur berdasarkan tingkat pertumbuhan ekonomi saja. Sehingga novelty yang dikembangkan distudi ini adalah menambah variabel investasi dan variabel pengeluaran pemerintah (government expentidure) guna mengukur tingkat efektivitasnya untuk mengurangi rasio pengangguran, pertumbuhan ekonomi dan ketimpangan pendapatan. Metode analisis regresi yang digunakan adalah linear dalam wujud Structural Equation Modelling (SEM) untuk mengetahui pengaruh secara langsung maupun tidak langsung. Pada demonstrasi structural equation modeling dilakukan dengan tiga tahapan yaitu uji model fit untuk menganalisis kelayakan model dengan menilai value TLI, CFI, AGFI dan RMSEA, kemudian pengujian secara langsung (direct effect) dengan nilai standardized dan pengujian secara tidak langsung (indirect effect). Adapun variabel yang didemonstrasikan adalah investasi (INV), Pengeluaran Pemerintah (PP), Tingkat Pengangguran (P), Pertumbuhan Ekonomi (PE), dan Ketimpangan Pendapatan (K). Demonstrasi hubungan antar variabel dibagi dalam 2 (dua) sub kategori yakni Indonesia bagian timur (T) dan indonesia bagian barat (B). Pada studi ini data yang digunakan adalah data sekunder sehingga beberapa tahapan pengujian diabaikan seperti pengujian validitas, reliabilitas dan pengujian outlier serta uji normalitas. Oleh sebabnya dengan ditiadakannya tahapan pengujian tersebut maka pengujian data langsung kepada tahap model fit. Adapun data pengukuran (menggunakan metode LN). Studi ini terdiri dari delapan hipotesis pengujian secara langsung dan empat pengujian dengan model mediasi. Hasil studi menyatakan bahwa, investasi berpengaruh negative signifikan terhadap tingkat pengangguran, dan tidak berpengaruh signifikan terhadap pertumbuhan ekonomi dan ketimpangan pendapatan. Pengeluaran pemerintah tidak berpengaruh signifikan terhadap tingkat pengangguran dan pertumbuhan ekonomi tapi berpengaruh positif terhadap ketimpangan pendapatan. Tingkat pengangguran berpengaruh negative signifikan terhadap ketimpangan pendapatan. Serta pertumbuhan ekonomi juga menunjukkan pengaruh yang tidak signifikan terhadap ketimpangan pendapatan. Dilain sisi pada demonstrasi pengujian secara tidak langsung seluruh variasi hubungan menyatakan pengaruh yang positif dan signifikan.
References
Adriana, D. (2014). Revisiting the Relationship between Unemployment Rates and Shadow Economy. A Toda-Yamamoto Approach for the Case of Romania. Procedia Economics and Finance, 10(14), 227–236. https://doi.org/10.1016/s2212-5671(14)00297-4
Aida, N. (2021). Work Experience, Obedience Pressure and Task Complexity on Audit Judgment. Golden Ratio of Auditing Research, 1(2), 1 - 8. https://doi.org/10.52970/grar.v1i2.51
Davidson, P. (2011). Post Keynesian macroeconomic theory. Edward Elgar Publishing.
Di Domenico, S. I., & Fournier, M. A. (2014). Socioeconomic status, income inequality, and health complaints: A basic psychological needs perspective. Social Indicators Research, 119(3), 1679–1697.
Gaffar, S., & Uleng Akal, A. T. (2021). Quantitative Analysis of Leverage Ratio on Earning-Per-Share of Property and Real Estate Sectors in Indonesia. Golden Ratio of Finance Management, 1(2), 101 - 113. https://doi.org/10.52970/grfm.v1i2.58
Gächter, S., Mengel, F., Tsakas, E., & Vostroknutov, A. (2017). Growth and inequality in public good provision. Journal of Public Economics, 150, 1–13. https://doi.org/10.1016/j.jpubeco.2017.03.002
Ghoshray, A., Ordóñez, J., & Sala, H. (2016). Euro, crisis and unemployment: Youth patterns, youth policies? Economic Modelling, 58, 442–453. https://doi.org/10.1016/j.econmod.2016.05.017
Hidayat, M. (2014). Inequality across districts and cities in the Riau. Economic Journal of Emerging Markets, 6(1), 106–118.
Khodeir, A. N. (2016). The Relationship between the Generation of Electricity from Renewable Resources and Unemployment: An Empirical Study on the Egyptian Economy. Arab Economic and Business Journal, 11(1), 16–30. https://doi.org/10.1016/j.aebj.2015.10.003
Kim, D. (2016). The associations between US state and local social spending, income inequality, and individual all-cause and cause-specific mortality: The National Longitudinal Mortality Study. Preventive Medicine, 84, 62–68. https://doi.org/10.1016/j.ypmed.2015.11.013
Kudasheva, T., Kunitsa, S., & Mukhamediyev, B. (2015). Effects of Access to Education and Information-communication Technology on Income Inequality In Kazakhstan. Procedia - Social and Behavioral Sciences, 191, 940–947. https://doi.org/10.1016/j.sbspro.2015.04.459
Kuncoro, A. (2006). Corruption and business uncertainty in Indonesia. ASEAN Economic Bulletin, 11–30.
Kuznets, S. (1955). Economic growth and income inequality. The American Economic Review, 1–28.
Lavrinovicha, I., Lavrinenko, O., & Teivans-Treinovskis, J. (2015). Influence of Education on Unemployment Rate and Incomes of Residents. Procedia - Social and Behavioral Sciences, 174, 3824–3831. https://doi.org/10.1016/j.sbspro.2015.01.1120
Myrdal, G., & Sitohang, P. (1957). Economic theory and under-developed regions.
Putra, A. H. P. K., Said, S., & Hasan, S. (2017). Implication Of External And Internal Factors Of Mall Consumers In Indonesia To Impulsive Buying Behavior. International Journal of Business Accounting and Management ISSN, 2(4), 1–10.
Ram, R. (1982). International inequality in the basic needs indicators. Journal of Development Economics, 10(1), 113–117.
Ram, R. (1992). Intercountry inequalities in income and basic-needs indicators: A recent perspective. World Development, 20(6), 899–905.
Roşoiu, I. (2015). The Impact of the Government Revenues and Expenditures on the Economic Growth. Procedia Economics and Finance, 32(15), 526–533. https://doi.org/10.1016/S2212-5671(15)01428-8
Sadiku, M., Ibraimi, A., & Sadiku, L. (2015). Econometric Estimation of the Relationship between Unemployment Rate and Economic Growth of FYR of Macedonia. Procedia Economics and Finance, 19(15), 69–81. https://doi.org/10.1016/s2212-5671(15)00009-x
Sargent, T. J. (2009). Dynamic macroeconomic theory. Harvard University Press.
Shao, C., Meng, X., Cui, S., Wang, J., & Li, C. (2016). Income-related health inequality of migrant workers in China and its decomposition: An analysis based on the 2012 China Labor-force Dynamics Survey data. Journal of the Chinese Medical Association, 79(10), 531–537. https://doi.org/10.1016/j.jcma.2016.02.009
Simanjuntak, M., & Putra, A. H. P. K. (2021). Theoretical Implications of Theory Planned Behavior on Purchasing Decisions: A Bibliometric Review. Golden Ratio of Mapping Idea and Literature Format, 1(2), 1 - 7. https://doi.org/10.52970/grmilf.v1i1.18
Strat, V. A., Davidescu(Alexandru), A., & Paul(Vass), A. M. (2015). FDI and The Unemployment - A Causality Analysis for the Latest EU Members. Procedia Economics and Finance, 23(October 2014), 635–643. https://doi.org/10.1016/S2212-5671(15)00448-7
Sukirno, S. (2004). Makroekonomi teori pengantar. Jakarta: PT Raja Grafindo Persada.
www.bbc.com. (2014). Ketimpangan pendapatan berdampak pada pertumbuhan ekonomi - BBC News Indonesia. Online Webpage. https://www.bbc.com/indonesia/majalah/2014/12/141209_bisnis_ketimpangan_pendapatan
www.kemenkeu.go.id. (2018). Informasi APBN 2018. Online Webpage. https://www.kemenkeu.go.id/media/10409/apbn-kita-edisi-agustus-2018.pdf
www.worldbank.org. (2015). Meluasnya Ketimpangan di Indonesia. Online Webpage. http://www.worldbank.org/in/news/feature/2015/12/08/indonesia-rising-divide
Yenny Tjoe. (2018). Seberapa Parah Ketimpangan Ekonomi di Indonesia? Online Webpage. https://ekonomi.kompas.com/read/2018/08/31/100200826/seberapa-parah-ketimpangan-ekonomi-di-indonesia-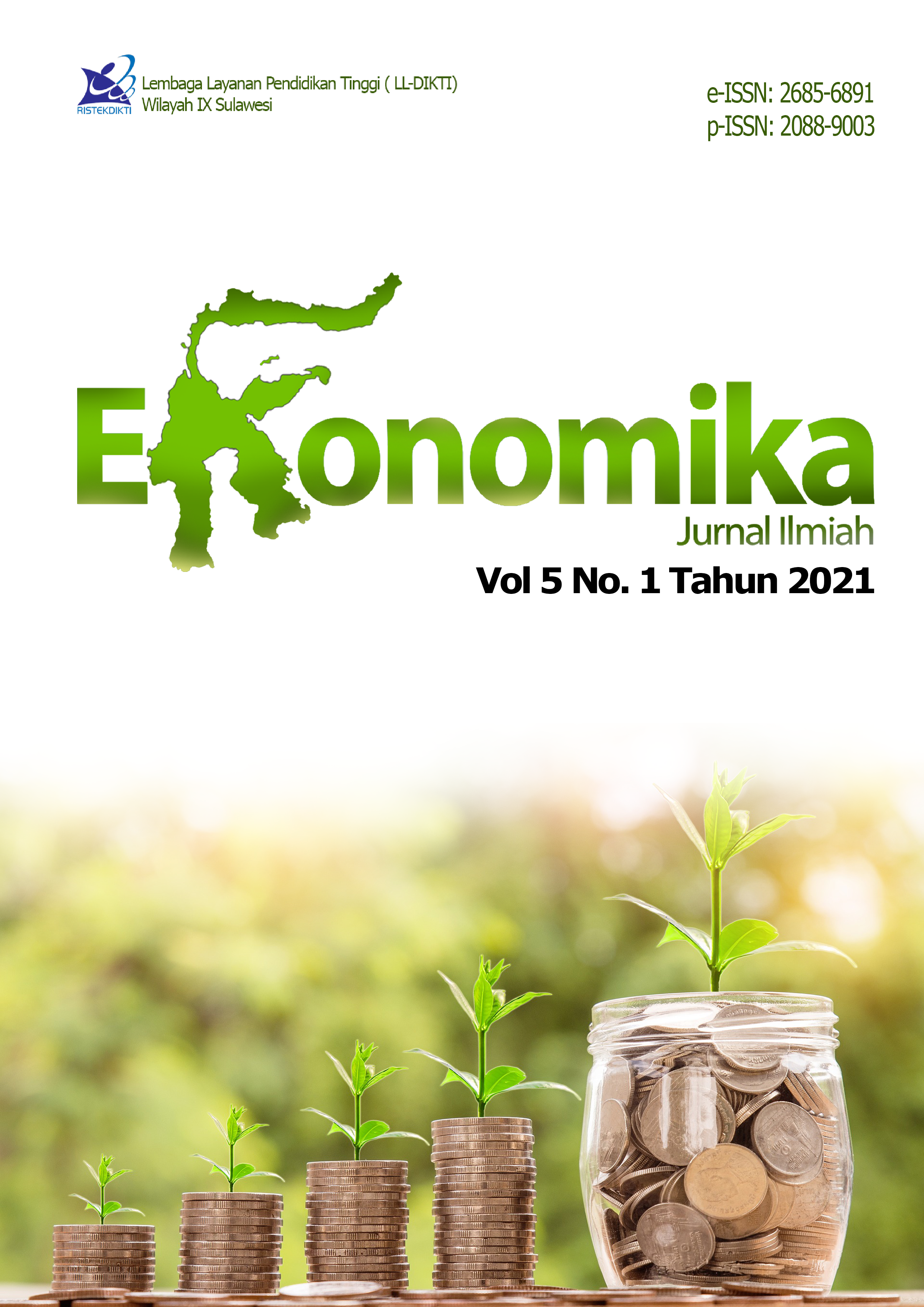 Copyright (c) 2021 Jurnal Ekonomika
This work is licensed under a Creative Commons Attribution-ShareAlike 4.0 International License.
JOURNAL POLICIES / PLAGIARISM AND COPYRIGHT INFRINGEMENT
Authors are responsible for ensuring that their works are unique and that they fully acknowledge the source of any content which is not entirely the authors' own. The journal will check articles for plagiarism (i.e. reproducing any content without attribution and permission) using Crosscheck / Similarity Check and considers the inclusion of plagiarised content to be misconduct by the authors.